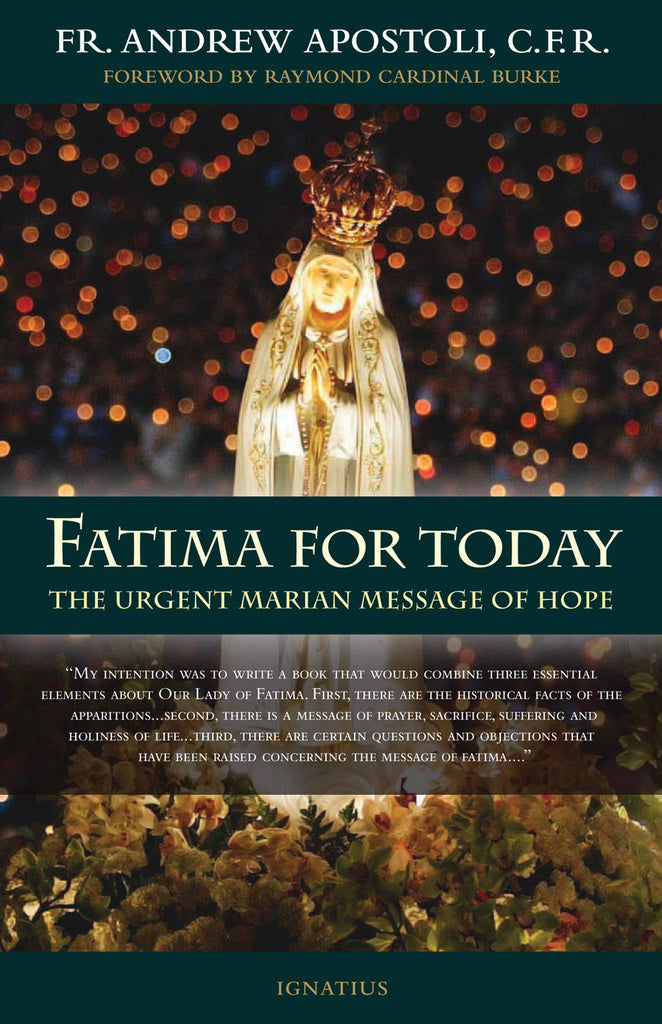 Fatima For Today - The Urgent Marian Message of Hope
---
Though the apparitions of Our Lady of Fatima took place 100 years ago, Our Lady's call to prayer and penance for the salvation of souls and peace in the world is as relevant now as when first delivered to three Portuguese peasant children in 1917.
At the peak of the First World War, Our Lady warned of another worldwide conflict, the rise and spread of Communism, and a terrible persecution of the Church unless people repented of their sins and returned to God. She also requested devotion to her Immaculate Heart and a special consecration of Russia.
Much of what Our Lady of Fatima said was revealed soon after her appearances, but the third and final "secret", which was not a message but a prophetic vision seen by the children, was not unveiled by the Vatican until 2000. Pope John Paul II, who read the third secret while recovering from the attempt upon his life in 1981, believed the vision signified the sufferings the Church had endured in the twentieth century.
Because of the prophetic nature of her messages, Our Lady of Fatima has been the subject of much controversy and speculation. In this book, Father Andrew Apostoli carefully analyzes the events that took place in Fatima and clears up lingering questions and doubts about their meaning. He also challenges the reader to hear anew the call of Our Lady to prayer and sacrifice, for the world is ever in need of generous hearts willing to make reparation for those in danger of losing their way to God.
"In a manner that is most accessible and, at the same time, complete and accurate, Father Apostoli helps us to know the maternal instruction of Our Lady of Fatima and, following it, to know and 'savor', in the words of Pope Benedict XVI, the mystery of divine love in our lives."
- Cardinal Raymond Burke
"As was so dramatically obvious during the visit of Pope Benedict XVI to Fatima in May, 2010, Our Lady's apparitions in 1917 remain powerfully compelling for us today. There she was an evangelist, calling us to prayer, conversion of heart, and penance, pointing to Jesus and repeating her words at Cana, 'Do whatever He tells you.' This book brings it all home."
- Most Reverend Timothy Dolan, Archbishop of New York
"For us, Fatima is a sign of the presence of faith, of the fact that it is precisely from the little ones that faith gains new strength, one which is not limited to the little ones but has a message for the entire world and touches history here and now, and sheds light on this history . . . Even now there is tribulation, in every conceivable form, and power threatens to trample down faith. Even now, then, there is a need for the answer about which the Mother of God spoke to the children at Fatima."
- Pope Benedict XVI
Softcover, 310 pages.
---
Share this Product
---
More from this collection