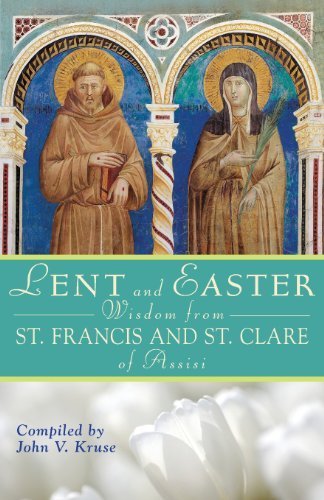 Lent and Easter Wisdom from St. Francis and St. Clare of Assisi
---
Although they lived nearly 800 years ago, Saint Francis and Saint Clare of Assisi serve as excellent guides for the modern Lenten journey.  Saint Francis and Saint Clare of Assisi abandoned their comfortable lifestyles and embraced lives of poverty, humility, and penance to better follow the call to Christian discipleship.  Both saints underwent powerful conversion experiences in their lives.  In the course of their conversions, they ignited a movement that reformed the medieval Church and that continues to influence and inspire millions of Christians to this day.
In this book of prayers, letters, poetry, rules of life, and testaments, Francis and Clare express their vision of the Gospel life.  Included are numerous themes extremely appropriate for the Lenten and Easter seasons: penance, conversion, self-sacrifice, service, embracing the cross, the humility and charity of Christ, joy, new life, and mission.  Through these daily meditations, Scriptural readings, and spiritual exercises, we follow two of the most influential figures in Church history.
Each selected writing is followed by a brief scripture passage, a fitting prayer, and a suggested action-making this book an ideal companion for daily use.  The words and example of these two great saints will inspire readers faithfully to follow Christ to the cross so that, together with them, they might experience the joy and new life of Easter.
Softcover, 128 pages.
---
Share this Product
---
More from this collection